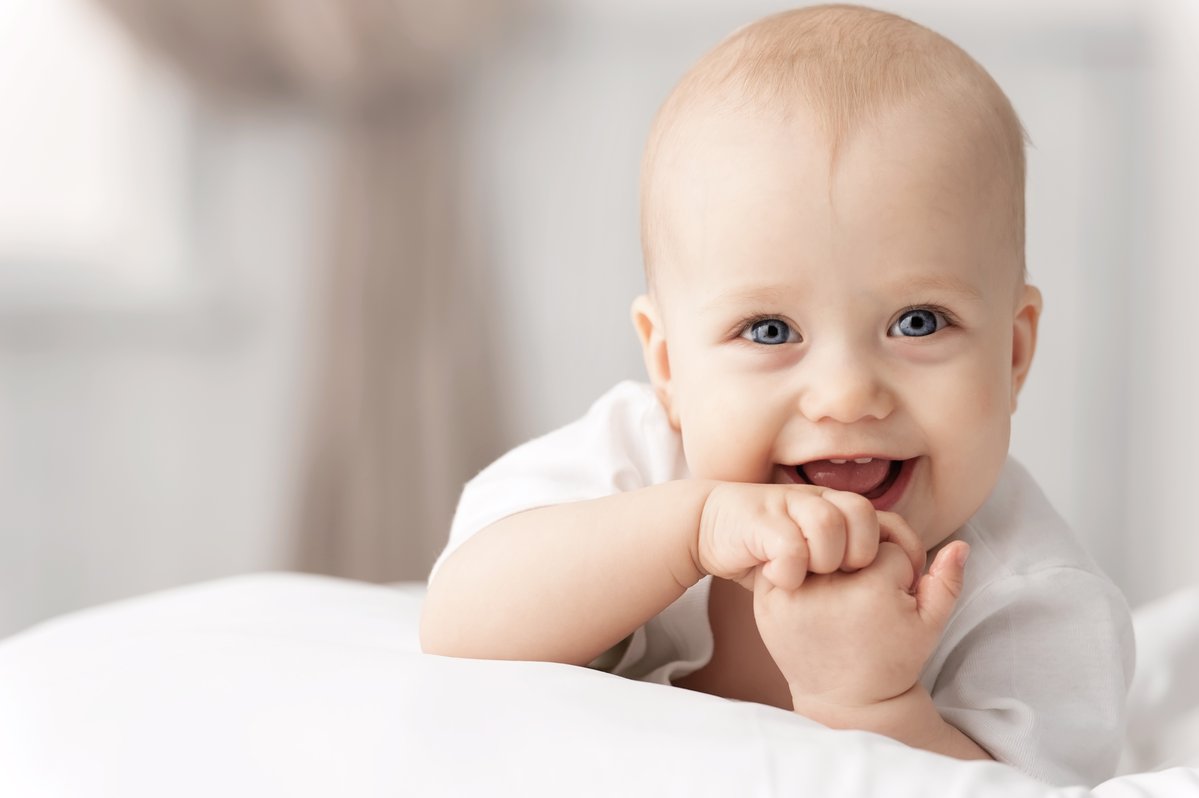 "Teething is just bliss" – said no parent ever!
Experiencing your child's firsts can be magical. The first smile. The first word. The first step. However, not all firsts are as much fun – the first tooth (and second, and third…) can be a tough time for parents and bubs alike. For some children there is barely a night of disturbed sleep and for others, the treachery of teeth erupting (yes, that's the technical name for teeth coming through) makes for a tired household for the first couple of years.
Parents often have a lot of questions surrounding baby teething, from queries about what the warning signs are to home remedies, and everything in between. The most frequently asked question is typically, "is this normal?" Here's a guide to what to expect when your baby is teething.
So, how do you get through 20 teeth being painfully pushed through your baby's gums? Firstly, let's talk about when they usually appear.
There are 20 teeth hidden in your little ones gums and the first of these will usually make an appearance between 4-8 months. Generally speaking, it's the bottom two front teeth that appear first, followed by the upper four front teeth. Then from one-year on, the molars and canines will begin to emerge.
Teeth are not a developmental milestone, so don't worry if your baby is a 'late teether'. The literature suggests that you should seek a medical opinion if your little one is13 months old and there's no sign of a first tooth.
How do you know your baby is teething?
Your little one may have one or more of the following symptoms:
Irritability
Nappy rash
Drooling
Grabbing ears
Flushed cheeks
Red, swollen gums
Fussiness with feeding/eating
Unsettled/disrupted sleep
Biting
How can I help my baby during the teething process?
Chew baby, chew.
Of course, teethers top our list. But why? Baby's have a natural instinct to chew. Everything. From using their mouth to explore the world around them to soothing sore gums, this instinct helps in more ways than one. In teething, it helps to massage, soothe and comfort while those teeth move around under the gum and can even assist teeth to make their break through!
We use both food-grade silicone and naturally antibacterial beech wood in our teethers as both materials offer distinct advantages for your little teething baby. Silicone is firm but flexible and babies love to chew this silky material to massage and soothe gums. Add a textured surface and that massage effect is heightened!
Wood is also renowned as an effective teething surface and we love the antibacterial properties of beech wood. The harder surface is great for serious teethers and allows baby to really chomp down – it gives them the benefit to apply more pressure as they get more resistance from the wood over a silicone teether, which in turn provides greater relief when they really need it. That extra firmness can also assist the final layer of gum to break and release the teeth and you might find your teething baby looks for those harder surfaces when teeth are nearing the gum.
You can shop our range of teethers here.
Ice, ice baby.
Another great way to help relieve gums naturally is by offering your little one chilled items as they can help soothe gums and reduce inflammation. There's a few options here, like cooling their favourite teether (silicone teethers work best) or a chilled face washer for them to suck and chew – they're best chilled in the fridge or the freezer, but only for 20-30mins as you don't want it frozen, just cooled. You can also apply gentle pressure and rub your clean finger along your little one's gums.
A healthy dose
When the going gets tough and you're sure it's the result of teething and nothing more sinister, a dose of children's Panadol could be in order.  Of course, seek advice from your pharmacist before using these products but they can prove very helpful in reducing your baby's pain. Paracetamol relieves pain for up to 6 hours and can be used after 3 months of age, while ibuprofen relieves pain for up to 8 hours and helps reduce inflammation. In addition, teething gels such as Bonjela can prove helpful. Whatever you choose, it's always important to follow the directions on the packaging.
Lots of lovin'
When all else fails, a hug from mum is all you can do – much like many of the challenges of newborns and babies (and children for that matter), sometimes you just have to stop everything, sit down and let your teething baby sleep, rest and/or cry.
We know from many studies of labour that when oxytocin (the hormone of love) is boosted, endorphins (natural pain relief) are also enhanced. So, a hug can actually help relieve your little ones pain.
This week, we've also caught up with beautiful Annelise who has been experiencing all of the above with Ayla! Here is how this beautiful mamma is coping:-
"When I found out I was pregnant with Ayla, it's safe to say I really wasn't worried about anything. You see, Ayla is my 4th baby. My other kids are a lot older; 22, 17 and 14. So you could say I'm a seasoned Mum, but little did I know what I was in for when Ayla arrived.
Ayla had severe colic and silent reflux, which I hadn't experienced before with my other kids. She was awake and screaming most nights from 11pm to 5am. Just when I thought I was on top of that and beginning to feel less like a zombie Ayla began teething.
Ayla cut her first tooth at 8 months. She was very unsettled and crying all the time, and her sleep was disturbed. She began chewing on everything and dribbling a lot, so I had to buy her some dribble bibs. She also started biting, which is absolutely excruciating when you're a breastfeeding Mum!
Teethers became our best friends. You can even put the silicone teethers in the fridge to cool before giving it to your baby, which helps to numb their gums. Ayla has several teething mittens, too. They are great when your baby is younger and can't pick up their teether if they drop it. 
Amber teething necklaces also worked really well for us. Amber has been used for centuries to provide pain relief for teething babies. Body heat releases the succinic acid in the amber, which is a natural pain reliever and anti-inflammatory. Ayla has a necklace and a bracelet. When she was little, I would put the bracelet around her ankle under her pants so she couldn't pull it off.
As Ayla was already on solids when she started teething, I put frozen fruit in her silicone feeders for her to chew on. Ayla adored this, and the frozen fruit really helped to sooth and numb her sore gums. Frozen peas are also a great snack idea for teething babes.
If you want to use a teething gel, I would definitely suggest getting a good one from a compounding chemist who makes their own. The ones you buy over the counter don't really do the trick.
Ayla still has lots of teeth to come through and if I'm honest, I'm really dreading the molars, but in another year or so it will be over and teething will be another obstacle that we have overcome.
As the saying goes this too shall pass, and in the meantime may I suggest lots of kisses and cuddles and maybe some wine for Mum!"
A big heartfelt thank you to Annelise for sharing her experience with us, and has allowed us to share this with YOU!
If you would like to connect with Annelise and Ayla, you can follow the Instagram below:
Stay tuned next week for more story time.
Always,
Louie Meets Lola x